The gruelling 21-day, 3,360km Tour De France cycling race finally came to a halt on Sunday 26th July with the rain-soaked ride into Paris and presentation of both the Yellow Jersey for overall winner and the Polka-Dot Jersey for King of the Mountains being presented to Kenyan Born Englishman Chris Froome.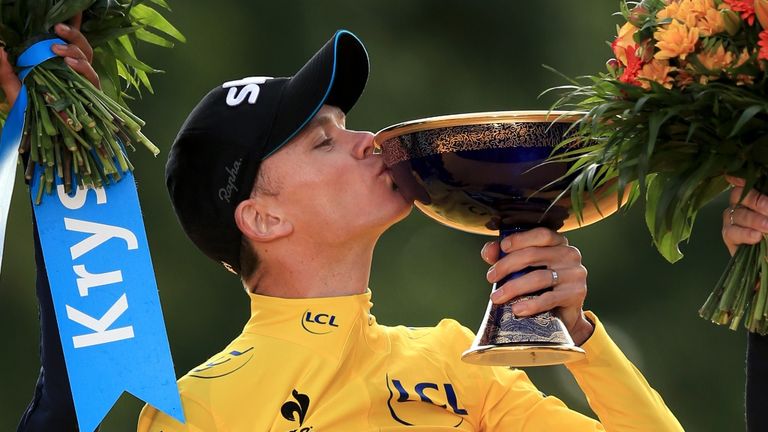 Unfortunately the edge was somewhat taken from this victory as the race was once again surrounded by controversy and marred by the conduct of some spectators who threw urine and punches and even spat upon Froome and his Sky Teammates as they completed the course.
Such is the level of mistrust surrounding the use of performance enhancing substances in tour cycling that when Froome mounted a massive performance burst on the stage 10 climb to La Pierre-Saint-Martin that put him almost three minutes clear, a French TV channel using images of Lance Armstrong to draw parallels between the shamed drugs cheat and the Team Sky rider.  In response Team Sky produced their own numbers to counter that claim and Froome has repeatedly said that he is clean.
Of course the Team Sky General Manager, Sir David Brailsford, is no novice at producing remarkable changes in individual and team performances. At the 2004 Olympic Games Great Britain won two cycling gold medals, their best performance since 1908.  Under Brailsford's leadership; however, the cycling team continued to improve, winning multiple world championships in road, track, BMX and Mountain bike racing resulting in Team GB leading the cycling medal table at the 2008 and 2012 Olympic Games, winning 8 golds at both, while British cyclists won 59 World Championships from 2003-2013.
Brailsford is credited with championing a philosophy of 'marginal gains' as best expressed by the man himself: "The whole principle came from the idea that if you broke down everything you could think of that goes into riding a bike, and then improved it by 1%, you will get a significant increase when you put them all together"
We have seen the effect of the implementation of this principle of 'marginal gains' as it has been applied to several sports over the last two decades culminating in the English Rugby team victory in the Rugby World Cup in 2003 under the leadership of Sir Clive Woodward and other similar surges in performance of the GB Rowing and Swimming Teams.
While these performance surges are no surprise to UK sporting audiences; clearly when applied to a sporting event like the Tour De France, that has been marred by some of the biggest doping scandals in sporting history, it raises great suspicion with some spectators unfortunately deciding to take their judgement of the reason for that success into their own hands.
What we haven't yet seen much of; however, is the application of this principle into GB business. Just as Brailsford and Woodward have applied this philosophy of marginal gains into their sports, few businesses have applied these same principles into the development of their people, and yet the potential benefits would appear obvious.
The Emenex extraMILE™ Employee Engagement programme applies this same principle of 'marginal gains' by breaking down the engagement of employees into its constituent parts.   At a personal level – by focusing in on the motivation and efficacy of an individual and how these work together to establish the personal brand of an employee.  At an organisational level – by focusing on the leadership tenets and supporting organisational infrastructure and how these combine to create the culture of the organisation.
The re-assembly and alignment of these two components – the personal brand with the organisational culture – is what produces these resulting 'marginal gains' in employee engagement and associated contribution and ultimately creates the improvement in organisational performance as measured by increased profitability, productivity, retention of key employees and higher levels of customer satisfaction.
As the British Band Dodgy sang in 1996 "If it's good enough for me, it's good enough for you", perhaps it is time for Team GB Businesses to take another look at the success of their sporting counterparts and seek similar improved performance through paying attention to the details of how they are enabling and empowering their employees to improve their performance – hopefully with fewer repercussions from the onlookers along the way!