The drama surrounding the announcement of the winner of the Oscar for Best Picture at the recent academy awards highlighted the need to ensure that we are focused on the right measures for the occasion.
If the measure of the evening was whether the participants enjoyed the awards and will participate again next year (if invited back!), then I am not sure that the objective was reached.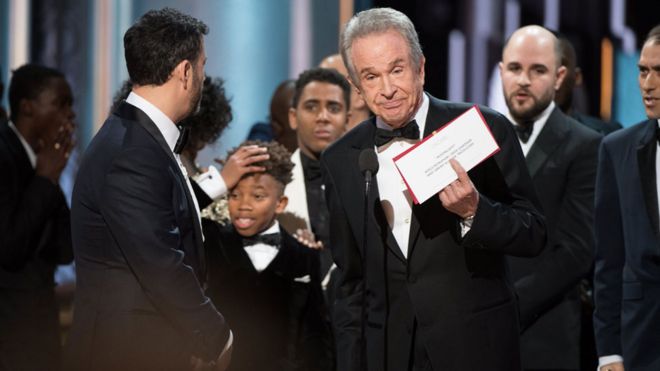 However, if the measure had been getting the right red envelope into the hands of the right person on the stage, then it was certainly a huge failure.  The intended celebration of 50 years since the release of the classic movie Bonnie and Clyde by having Faye Dunaway and Warren Beatty present the best film award, turned out to be a huge embarrassment.
The fiasco that ensued raises a good question for business: are we measuring the right things?  In their book  "The 4 Disciplines of Execution," Franklin Covey differentiate between lead and lag metrics, suggesting that if we focus on and execute on our lead metrics, that the lag metrics will take care of themselves.
Lead metrics for the Oscar might include: ensuring that all guests are seated in time for the food to be served, ensuring that the food is served and cleared up before the start of the award presentation, that a sufficient number of Oscars are produced and, yes, that the correct red envelope will be handed to the right presenter at the right time.
Identifying and focusing on the right lead metrics is, as we saw, critical to the successful achievement of the lag metrics, it only takes one weak link in the chain for it to fail.
Feedback received during our recent Employee Voice seminar on how the impact of implementing more continuous employee conversations might be measured revealed more soft than hard and more lag than lead measures.
These 'soft,' 'lag' metric responses included improved; openness, trust, confidence, innovation, communication, empowerment and job satisfaction leading to increased engagement, higher levels of productivity and improved morale – all admirable responses that touch on our beliefs and values.
However, it is the 'hard,' 'lead' metrics that need more of our attention: percentage of employees polled that responded, frequency of polling, number of prioritised actions taken within 1 month of polling, % of actions aligned into existing key objectives, that will ultimately impact the 'hard,' 'lag' metrics of improved measurable business outcomes (revenue, profit, customer satisfaction, health and safety incidents).
The 2017 Oscars will certainly be remember for the drama that took place on stage, upstaging the dramas that the attendees and viewers were there to celebrate and reward.  I feel confident that there will be significant analysis and actions taken that won't see a repeat of such chaos in the future; however, rather than languishing in the pain of other's mistakes, there are lessons for all of us to learn and apply into our own situations.